by GD Jasuja  October 31, 2011 9:43 pm
Greener Cellulosic Fibres

A project announced in 2006 by the authorities in Finland to find ways of turning some of the wood from the Nordic country's forests into "resourceefficient production technologies" immediately attracted the attention of serious players in industries such as paper and chemicals. One of the focal points was always intended to be cellulose, using cellulose from the trees in material applications, and by March last year, a bio-refinery had been set up with the project leaders looking for new value chains to supply. According to one academic who has been active on the research side of the project, Professor Pertti Nousiainen, director of the institute of fibre materials science at Tampere University of Technology, the textile industry is a logical candidate.
The objective for this part of the project, called FuBio, is to find and develop technologies to use bio-refineries to modify cellulosic fibres into "future valuable materials and solutions". Given the stakeholders that the project attracted, the initial examples were applications in wood products, biofuel and packaging; textiles came some distance down the list.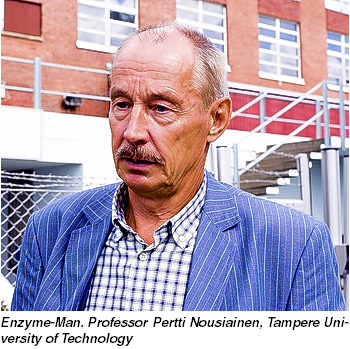 Professor Nousiainen and his research colleagues saw quite quickly, though, that the success of Lyocell means textile applications could fulfil one of the main criteria of FuBio, that the textile value chain is large enough in scale and value to cover the cost of using bio-refineries to extract fibres.
The producer of Lyocell, Lenzing, reported its best-ever six-month results in 2010, net profit of Euros 80.4 million on sales that increased by 43.6% compared to the first half of 2009 to Euros 847.2 million. In 2009, it issued a prediction for this year that, in 2010, fabric and garment manufacturers would use around five million tonnes of cellulosic fibres (not just Lenzing's, but across the board), a bigger share of the market than these fibres have ever had before. Part of the reason for the increase may be the association between cellulosic fibres, which come from plants, and sustainability. Lenzing itself says using wood as a renewable resource, and an "environmentally sound" production process help make its sustainability status "exemplary".
For Professor Nousiainen, the cellulosic fibre production he and his colleagues believe can arise from FuBio will prove to be more sustainable still. "Our approach is to use enzymes," he explains. "Enzymes open the nanofibrilar structure of the cellulose system allowing manufacturers to produce regenerated fibres that are very similar in tensile strength to viscose fibres."
The professor points out that wood cellulose is important, but has a compact physical and chemical structure and does not dissolve easily. He calls the processes current producers employ "difficult, expensive and often harmful to the environment" and says the use of enzymes instead is "an interesting green alternative to dissolving cellulose'.
He explains that commercialising this is an important aspect of FuBio and that the research team has been co-operating intensively to create a development plant,which will use machines that are used to produce viscose at the moment.
The bigger picture
According to Lenzing, using enzymes to produce cellulosic fibres rather than chemicals might not be such a bad idea; however, the company is not convinced it can be done effectively.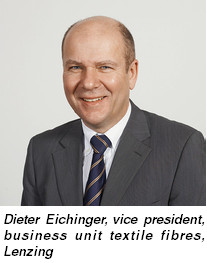 Dieter Eichinger, vice president, business unit textile fibres, agrees with Professor Nousiainen that dissolving cellulose is not a straightforward process. If it was possible to do this in water, for example, trees would be dissolving in lakes and seas across the globe. Cellulose is a polymer that has quite a long chain and as far as Mr Eichinger is aware, there are only two commercial ways of dissolving it. The first is to do so using a chemical process, as textile manufacturers do for example in the case of viscose. The second is to use a solvent as Lenzing does in the Lyocell process.
"So far the enzymes I'm aware of only degrade the polymer to a level to remove fibrils; this is used in textile technology to polish the surface," says Mr Eichinger. "I don't know exactly what the technology behind this [new development] is but of course it is always interesting testing new technologies on a commercial scale."
The end result of using an enzyme rather than chemicals would be the same, he says; however the benefits of using enzymes would greatly depend on the process. Isolating any one aspect of the production process is a mistake, according to Lenzing, because the only real benefits come from improving the whole chain. In the case of textiles, this can be very complicated, Mr Eichinger explains.
"Spinning is the first hurdle," he says. "Then there is dyeing and finishing. Lenzing has dedicated itself to working on this much more than in the past because the biggest impact on the environment takes place on the dyeing and finishing side. If you really want to save the world you're better off looking at that. When we talk about green stories, we always have to think about what impact we are having overall."
In terms of the solvent Lenzing uses to dissolve the polymer, he claims it is comparable to the type of detergent used in shower gels around the world on a daily basis. As a result, he suggests looking for an alternative might not be as necessary and impactful as it might sound.
Getting the focus right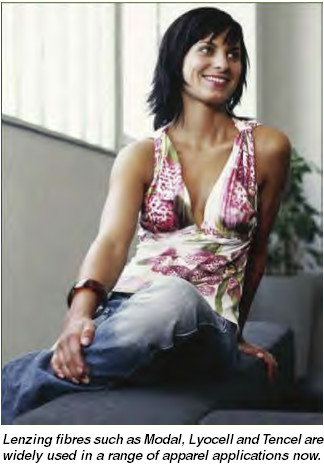 Mr Eichinger suggests that there is a lot of hypocrisy within the "green" textile sphere. He recently gave a presentation in New York that focused on green issues. Despite the subject matter, people flew from all over the world to attend the conference and had no qualms about the air conditioning that was being used to keep them cool and comfortable. "If you think about what is happening in society we have to compromise, you can't be perfect," he says. "You try to think about all of the elements and the impact of them, and then compromise. You have to be transparent, this is what we are doing, and always trying to improve," he continues. "It's a never-ending story."
The two most important things, he claims, are having a product that feels right and performs well, and that this product has a viable story behind it. 'Technology is one thing and product properties are another," he says. "For example, with Tencel and Modal, the first thing is that you feel the difference. The combination of personal experience and the confidence you have that something is also greener draws the attention. It is something to talk about."
Mr Eichinger compares Lenzing to consumer electronics brand Apple, which not only offers individual products, but provides a much broader concept. "it's about providing the whole package, hardware and software," he says.
He explains this by saying that the problem for most textile and clothing brands is that they have very little research and development capacity, so they have to be careful where they focus their efforts. This, says Mr Eichinger, is where Lenzing has the edge. 'We give them the stories, the product development information, the marketing help. We also reduce the risk for our customers because we have tested our fibres extensively. For a new company it's not easy to have the whole package available. People build businesses on confidence."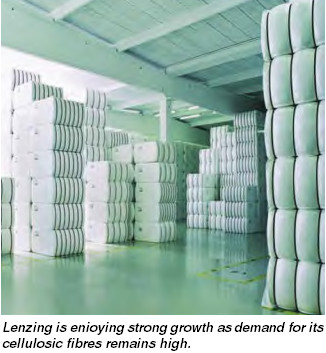 According to Mr Eichinger, Lenzing isn't worried about technological advances that are being made by its competitors. The market is so big and everything takes time. There is plenty of capacity," he concludes.
---
FuBio : Building a Bridge from Pulp Mills to New Business & New Markets
Future Biorefinery (FuBio), the five-year research programme was started in March 2009. The FuBio programme aims at improving the competitiveness of the Finnish forest cluster by creating a competence platform that enables developing of new products that meet the growing demand for biomass-based products in the future of diminishing fossil resources. The programme has a planned budget of about EUR 50 million for the years 2009 -2014 and involves participants from leading forest cluster companies and top research organizations. Also, international partners are important actors and contribute with spearhead expertise and knowledge. The FuBio programme is one of the five research programmes launched by Forestcluster Ltd that is one of the six Finnish Strategic Centres for Science, Technology and Innovation (SHOK), a concept for intensifying cooperation between companies and research institutes, and speeding up the process of converting research results to commercial products. Forestcluster Ltd has launched the FuBio research programme to create new competence in forest biomass biorefining and to stimulate the transformation of the Finnish forest cluster.
Novel wood-based value chains : The objective of the FuBio programme is to develop new methods enabling fractionation of wood into cellulose, hemicelluloses, lignin and extractives in their native-like form and further, to upgrade these fractions into chemicals and materials. Bioplastics, new composite materials and various biochemicals are examples of potential new end-products. The programme aims at generating innovations that can either be implemented as a part of existing industrial operations, or which open up entirely new wood-based value chains that focus on new business activities and new markets.
Unique entity : FuBio is a unique programme – it covers all the strategic themes in the wood biorefining excluding biofuels. There has been wide interest and long culture for biorefining studies in Finland, although research has been very fragmented in small research groups. By linking together all these groups the FuBio programme aims at improving the quality of results and accelerating the implementation of applications. All the FuBio research groups are part of international networks, and their global contacts are backed by Finnish pulp and paper corporations, as well as chemical and machinery suppliers, that are active players in the international markets. During the first two years, the FuBio programme has been focusing on wet laboratory work, such as fractionation technologies, cellulose for material applications, hemicelloses for materials and hydroxyl acids, and biochemicals for protection of products and health.
Contact details :
Lars Gädda
Niklas von Weymarn
Research Director
Programme Manager
Forestcluster Ltd.
VTT Technical Research Centre of Finland
Tel. +358 50 322 2471
Tel. +358 20 722 7138
ahmedabad
,
apparel
,
cellulose
,
enzyme
,
green
,
jasuja
,
Lenzing
,
Lyocell
,
new cloth market
,
polymer
,
textile