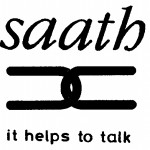 The helpline for those feeling depressed and suicidal.
Affiliated to
Address :
B-12, Nilamber Complex,
St. Xavier's College corner,
H.L. Commerce College Road,
Ahmedabad – 380 009. INDIA
Phone : 26305544
Open 1:00 p.m. to 7:00 p.m. each day of the week
(including all holidays)
Who cares if I live or die?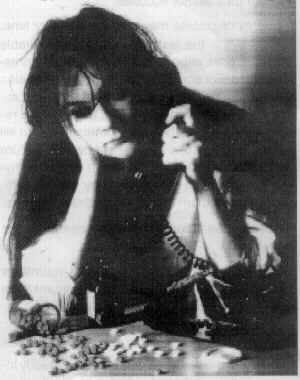 Saath does.
The Who, What, Why And When of Saath
WHO
A surprisingly large number of people consider killing themselves at sometime in their lives. You may know someone who has attempted suicide or come close to it. It is a unique emergency and requires special handling. More precisely, what is often required is a special kind of listening that is sympathetic, understanding and, above all, confidential. This is exactly why SAATH wants to offer its services. SAATH has over 20 volunteers from every walk of life. Whatever other qualifications they may have, SAATH volunteers are chosen because they have what desperate people most need – a real concern for others and a talent for listening in confidence without making judgements. All volunteers are personally interviewed, carefully screened, undergo a rigorous preparation course and are regularly trained by experienced volunteers and professionals.
WHAT
Nothing will shock the volunteer at SAATH. Whatever the kind of human distress that can lead one to suicide, it has been shared with SAATH. If problems like personal relationships, marital troubles, loneliness, psychological problems, emotional disturbances, sexual difficulties, bereavement, anxiety, debt, failure, addiction, rejection etc. can turn to despair, it can be shared with SAATH. SAATH assures those who call will find great comfort in talking over their problems, fears and anxieties with someone they don't know, but with whom confidence is guaranteed because they find their burdens are much lighter when shared.
WHY
There is a common belief that people who talk about killing themselves never actually do so and that they're just drawing attention to themselves. In fact 80% of people who have killed themselves have talked about it beforehand and had no attention paid to them. Over 75,000 people committed suicide in India last year, many of them because they had nowhere to turn to when they were desperate. They didn't have anyone close enough or anyone they trusted sufficiently to help them think through their problem. Suicide is a cry for help. Many who attempt suicide do not really wish to die. It is only that they are not prepared to go on living like that. For people like this, death may seem to be the only solution.
AND WHEN
Anyone can contact SAATH by letter, over telephone or in person between 1:00 p.m. to 7:00 p.m. on any day – No holidays. So whenever you need help, SAATH is waiting to give it. Those who contact SAATH may remain anonymous, although some choose to reveal their identity and talk to a volunteer face to face. Eitherway, confidence is guaranteed. And a little understanding can save a life.
More Info
News of suicide leaves nobody unmoved. The thought that another person could not face life and has deliberately chosen to die is deeply shocking for family and strangers alike. Yet more shocking is the fact that many of those who attempt suicide are glad they did not succeed. Thoughts of suicide may not occur at any time. For many it is the last release from unbearable emotional pain, especially those in severe depressive illness. For some it is the ultimate expression of anger, despair and frustration. No section of society remains immune. For most people it will remain just a thought, but many others will try to kill themselves because they have nowhere to turn when they are desperate. They do not have anyone close enough or anyone they trusted sufficiently to help them think through their problems.
For people like these, death may seem to be the only solution. SAATH offers an alternative. SAATH volunteers are there when things are too much. They are there when no one cares, listens or understands.
Emotional crisis
Throughout the world there has been a steady increase in the number of suicides and India is no exception. With the process of industrialization, break-up of the joint family and living under great pressure – people are less able to cope. Living in a metropolis city increases the incidence of loneliness, isolation, competitiveness, work pressure and interpersonal problems. Many individuals when unable to cope turn to inappropriate and destructive solutions leading to more people becoming alcoholic, taking to drugs, or suffering from mental illness. Lack of appropriate and timely emotional support and the absence of readily available external support systems also contribute to the rise in the number of emotional crisis. A World Health Organization (WHO) study confirms that at least 30% of all medical ailments have a psychological origin and as 'treatment' they would require emotional support and befriending more than mere medication.
Befriending – emotional support
People facing an emotional crisis mostly require a non-clinical, informal and confidential service which is available whenever a person needs emotional support or crisis intervention. What a person in crisis most needs is a befriender who has time to listen and who tries to help sort things out, and who does not give advice or criticism but can with special skills help the person to come to terms with the crisis he or she is caught in and feel sufficiently confident to take care of himself or herself. What is thus needed is a supplementary paraprofessional service to the existing professional ones which can easily be developed and which is known worldwide to be effective.
Befriending centres or suicide prevention centres in India are a relatively new phenomena although the suicide rate has shown an alarming increase in the past few years. In 1986, there were 53,128 suicides registered in India. Today it the number is more than 75,000 per year. That is about 8 persons every hour, making suicide one of the major causes of death. Cases that remained unreported as well as attempts to commit suicide made would be approximately ten times this number. In other words, over 7,50,000 people in India try to kill themselves every year.
Talking helps
Suicide is not confined to any particular age-group, occupation or social class, although some are more at risk than others. For that reason, it is not an area which needs to be left to the professionals alone. Everyone has a responsibility to work towards the alleviation of the misery and suffering of the suicidal person. The SAATH volunteers know that it helps to talk through the deeply distressing thoughts and feelings, and they are active in promoting awareness that there is somebody there to offer support if that support is needed. They are committed to standing alongside those suicidal, lonely or distressed. Many callers find great comfort in talking over their problems, fears and anxieties with someone whom they do not know but with whom confidence is guaranteed.
A myth
There is a common belief that people who talk about killing themselves never actually do it; that they are simply drawing attention to themselves. In fact 80% of people who have killed themselves have talked about it before hand and had no attention paid to them. Certainly people have a natural tendency to avoid facing the hard fact that suicide happens; it can be a terrible indictment of society and one whose implications it is convenient to deny.
A real concern
SAATH will be open from 1:00 p.m. to 7:00 p.m. everyday of the week including Sundays and holidays; with the ultimate aim of opening the centre 24 hours a day round the year. Currently SAATH has 20 volunteers from different walks of life.
WE NEED YOUR SUPPORT
There are many ways in which you can help SAATH. As a voluntary organization, of course, we need volunteers. Anyone who feels they can handle and help people in despair can call SAATH and ask about the next preparatory training program. But we also need other help. You will be equally valuable helping us to raise funds. SAATH is a voluntary service, funded mainly by the generosity of the public. Even though SAATH volunteers give their time without payment, it still costs us money to run the centre. We need your help in publicizing our activities, and create awareness about SAATH. You can sponsor our advertisements. You can pay for publicity material designed and printed for SAATH. You can take care of our general expenses, whether it's the telephone bills, or administrative and maintenance liability. Contributions should be made in favour of "Saajan Seth Foundation". All contributions are exempt from Income-Tax under Sec. 80G of the Income Tax Act.
About Saath
SAATH has started its services from November 27, 1998. It is affiliated to Befrienders International which was formed in 1974 out of the Samaritan movement in U.K. The Samaritans have been running 24 hours free and confidential crisis services for the last 30 years in U.K. only. With over 200 branches across Britain, the Samaritans have contributed in reducing the suicide rate by 25% in last 20 years – between 1963 and 1983. These services were then introduced in other countries and the international group was called Befriending International (BI). Today BI has 125 centres in 25 countries across the world. 70% of these centres are in the Third World with Brazil alone having 65 branches. In total, 28,000 volunteers offer seven million volunteer hours and answer 3.5 million calls a year from desperate people in need regardless of their age, sex, social or economic status.
SAATH's Services
1. The SAATH centre offers the following in its services for the callers :
2. Easy access by telephone or visit for persons who are feeling lonely, desperate or suicidal.
3. Reliable daily service at specified times – currently from 1:00 p.m. to 7:00 p.m. daily (including all holidays), aiming for 24 hours availability.
4. Active listening that is sympathetic, understanding, non-critical, and above all confidential.
5. Anonymity for callers and volunteers.
6. No charge for help.
7. A non-religious and non-political stance.
8. Referrals to other agencies or professionals for medical, practical or professional help, if appropriate.
FEELING DEPRESSED/SUICIDAL?
CONTACT :
B-12, Nilamber Complex, St. Xavier's College corner, H.L. Commerce College Road, Ahmedabad – 380 009. INDIA Phone : 26305544 Open 1:00 p.m. to 7:00 p.m. each day of the week (including all holidays) An Organisation that Values Human Life
Director : Ms. Anju Mukul Sheth
List of Suicide Prevention Centres in India affiliated to the Befrinders International
OUR INDIA

Always Under Construction
Site being developed and maintained by G. D. Jasuja, Ahmedabad