Ministry of Education Union Home & Cooperation Minister Shri Amit Shah launches education and skill development related initiatives to mark
Ministry of Education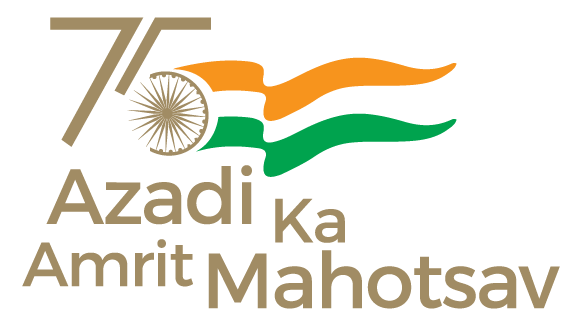 Union Home & Cooperation Minister Shri Amit Shah launches education and skill development related initiatives to mark two years of launch of National Education Policy

People see Modi ji's National Education Policy in different ways, but I believe that a nation is built by its citizens and this NEP 2020 has been made with the basic idea of making talented citizens

This new education policy of Prime Minister Narendra Modi is the foundation of self-reliant, strong, prosperous and secure India and this education policy is a means of reaching every child and shaping their future

It has been clarified in the new education policy that the public education system is the basis of a vibrant democratic society

Swami Vivekananda had said that education makes a person capable to face struggle, builds his character, makes him philanthropist and instills courage in him like a lion, after extensive brainstorming PM Modi has incorporated all these objectives in NEP-2020

NEP-2020 is connected to the cultural roots of India and this education policy has been formed respecting the suggestions of everyone

Among all the education policies that came after independence, NEP-2020 brought by PM Modi is the only education policy that did not face any opposition

National Education Policy 2020 is not just a policy document but a reflection of the aspirations of all the learners, academicians and citizens working in the education sector of India

Whether it is technical education, medical education or law education, when we do not teach all these in Indian languages, then we are able to use only 5% by limiting the capabilities of the country, but when we teach in these subjects in Indian languages we are able to utilize the 100% capacity of the country

Along with incorporating India's culture and knowledge tradition in NEP 2020, the way has also been opened to incorporate innovations, thinking and modernity from all over the world and there is no place for narrow thinking in it

The main objective of this policy is to groom such students who have a sense of national pride as well as world welfare and have the potential to become a global citizen in the true sense

One can acquire a good position in life through rote learning, but a person cannot gain respect

If a person has to acquire eminence, then by increasing his memory, thinking, reasoning, analysis and decision ability, the ability to take decisions based on policy and implement it is to be developed, this is the purpose of NEP 2020

There are 5 main pillars of this policy- Enhancement of Capacity, Accessibility, Quality, Fairness and Accountability, this document on education has been built on these pillars

There is a close relationship between research and the education system in the Mother tongue, one who thinks in his own language can do well in research because his original thinking ability is developed in his own language

To make the country a R&D hub, it is very important to keep the thinking process
Posted On: 29 JUL 2022 10:30PM by PIB Delhi
To mark the completion of two years of launch of National Education Policy 2020, Union Home & Cooperation Minister, Shri Amit Shah today launched a slew of new initiatives related to education and skill development in the presence of Union Education & Skill Development and Entrepreneurship Minister, Shri Dharmendra Pradhan. The initiatives launched covered the entire spectrum of education and skill development verticals including areas like digital education, innovation, synergising education and skill development, teacher training and assessment.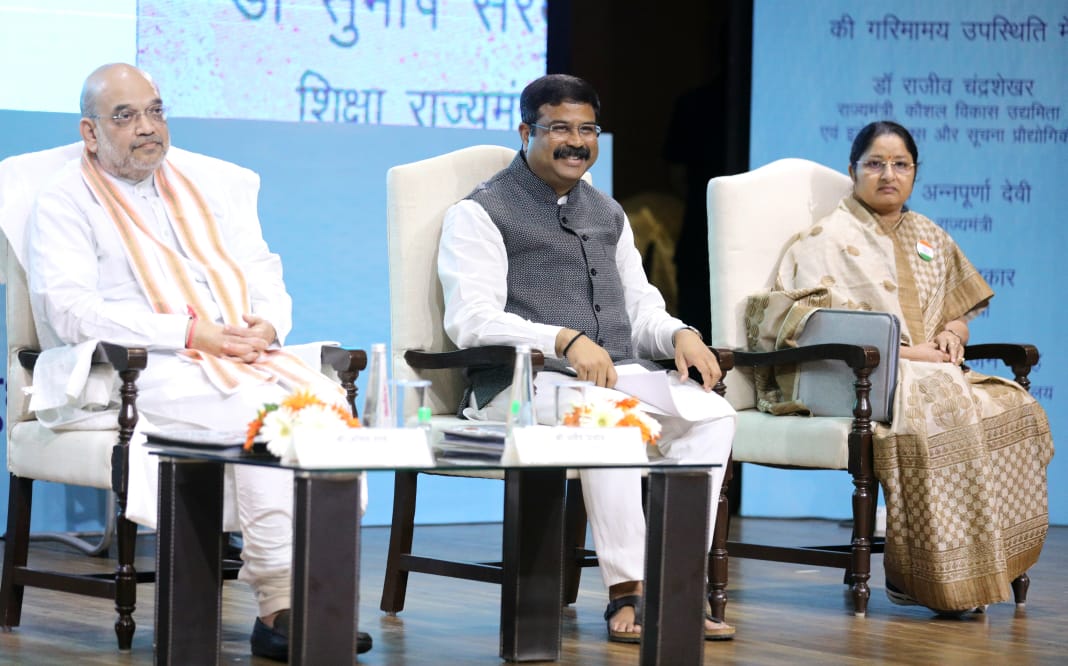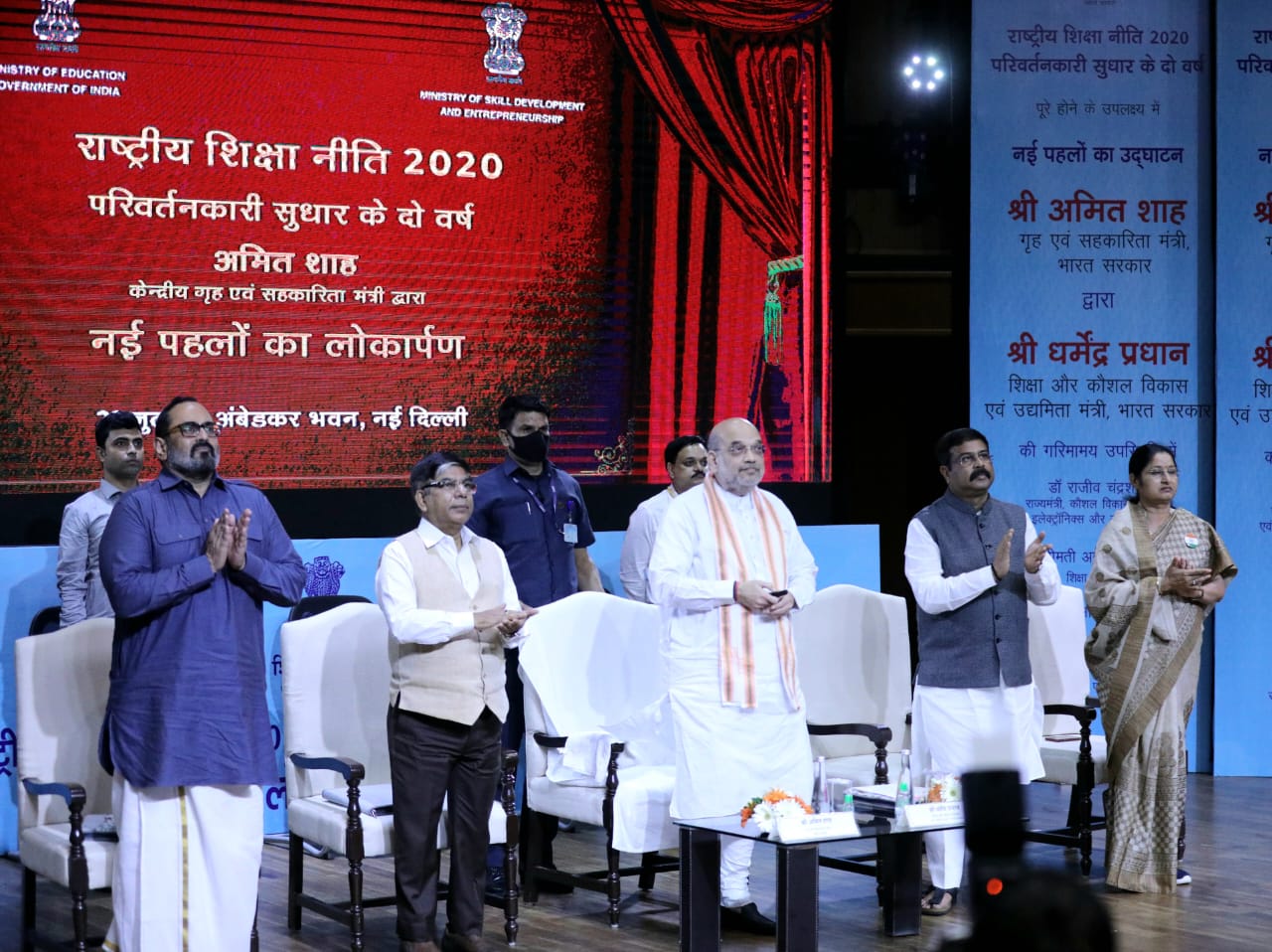 Ministers of State for Education Shri Subhas Sarkar, Smt. Annpurna Devi and Minister of State for Skill Development Shri Rajeev Chandrasekhar were present on the occasion. Secretary, School Education Smt Anita Karwal deliveredthe welcome address and Secretary Higher Education Shri K. Sanjay Murthy delivered the vote of thanks. Apart from the launch, the program also witnessed cultural performance by the students of Kendriya Vidyalaya and address of the gathering by dignitaries.
Speaking on the occasion Shri Amit Shah said that while people see Prime Minister Shri Narendra Modi's National Education Policy in different ways, but he believes that a nation is built by its citizens and this NEP 2020 has been made with the basic idea of making talented citizens.
Speaking about role of NEP, he said that the National Education Policy will lay the foundation of self-reliant, strong, prosperous and secure India and this education policy is a means of reaching every child and shaping their future. Quoting Swami Vivekananda, he said that education makes a person capable to face struggle, builds his character, makes him philanthropist and instills courage in him.After extensive brainstorming PM Shri Narendra Modi has incorporated all these objectives in NEP-2020, he added. He also said that NEP-2020 is connected to the cultural roots of India and this education policy has been formed respecting the suggestions of everyone.
Among all the education policies that came after independence, NEP-2020 brought by the Prime Minister is the only education policy that did not face any opposition, he further added.
Speaking about stakeholders, he said that the National Education Policy 2020 is not just a policy document but a reflection of the aspirations of all the learners, academicians and citizens working in the education sector of India.
Speaking about role of mother tongue and Indian languages, he said that whether it is technical education, medical education or law education, when we do not teach all these in Indian languages, then we are able to use only 5% by limiting the capabilities of the country, but when we teach in these subjects in Indian languages we are able to utilize the 100% capacity of the country. There is a close relationship between research and the education system in the Mother tongue, one who thinks in his own language can do well in research because his original thinking ability is developed in his own language, he further added.
Along with incorporating India's culture and knowledge tradition in NEP 2020, the way has also been opened to incorporate innovations, thinking and modernity from all over the world and there is no place for narrow thinking in it, he further added.
Shri Amit Shah also said that the main objective of this policy is to groom such students who have a sense of national pride as well as world welfare and have the potential to become a global citizen in the true sense. He also spoke about the 5 main pillars of this policy- Enhancement of Capacity, Accessibility, Quality, Fairness and Accountability. He said that the benefit of India's knowledge and research should not be limited to India only, but the whole world should receive it.
Speaking about skill development, he said that In this education policy, a target has been set to provide vocational education to at least 50% of the students in the school and higher education system by 2025 which is a very important step.
While addressing the participants,Shri Pradhan expressed gratitude to Home Minister Shri Amit Shah for launching the initiatives under the National Education Policy 2020 and for his constant guidance. Shri Pradhan said that knowledge has always been India's capital. He said that when the world was grappling with the crisis of COVID-19 pandemic, India turned the crisis into opportunity and came up with the futuristic National Education Policy 2020 under the leadership of Prime Minister Shri Narendra Modi.
Speaking about historical context, Minister Pradhan said that the National Education Policy 2020 is an antidote to the Macaulay's system of education which was designed to colonise our minds. The National Education Policy 2020 is now India's present and India's future and is representative of Indian way of thought, he further added. Speaking about importance of education, he said that education can enable India to reach the pinnacle of success and the society is looking upto us with expectations and hope to make it happen.Our educational aspiration is not only for earning degrees and certificates but also to achieve global good, he further added.
Some of the initiatives launched today are as follows:
Establishment of IKS-MIC program for technology demonstration
This unique initiative will promote development of products, processesinspired and developed from the Indian's traditional knowledge systems. The joint program of the IKS Division and the MoE Innovation Cell will solicit proposals for the demonstration of technologies and development of prototypes in the areas of technology, engineering and sciences. Successful participants will be encouraged to form startups and handholding will be done through the IKS-MIC Virtual hub of Innovation.
Introduce 75 Bharateeya games in schools.
The objective of these initiatives is to introduce Bharateeya games to our children. Many of the traditional games are less resource incentive and encourage creativity, camaraderie and connect with the culture of Bharata. Each month, a seasonally appropriate Bharateeya game will be introduced in schools through the PT teachers. The PT teachers will upload the pictures and short videos. Best performing schools and PT teachers will be recognized with a certificate. Simultaneously, the students will be able to participate in a quiz on the mygov.in portal and earn certificates.
Launch of Kalashala initiative in 750 schools to promote and support local arts
The goal of this initiative is to educate children about the various art forms of India and help them discover and appreciate the rich cultural heritage of India. This initiative will introduce various art forms of India to school children in India through lecture demonstrations by visiting artists.Such culturally aware children will grow into culturally aware citizens who appreciate, support, and practice some of these art forms. The IKS Division of the Ministry of Education, seeks to implement NEP2020's suggestions for educational institutions through the IKS Kalashala resident artist programmes.
Partnership with Indira Gandhi Open University (IGNOU) to provide upward mobility to students and help them attain higher education and more livelihood opportunities- opportunity to join the three- years degree programme of IGNOU. Under the partnership, 32 National Skill Training Institutes (NSTI) 3,000+ Government Industrial Training Institutes (ITI), 500+ Pradhan Mantri Kaushal Kendras (PMKK) and nearly 300 Jan Shikshan Sansthan (JSS) will be associated with IGNOU as Registration Centres, Examination Centres and Work Centres for hands on training. Also, 500 IGNOU centres have been announced today.
Government of India has taken new initiatives in Skill Development such as the "Skill Hubs" initiative under Pradhan Mantri Kaushal Vikas Yojana (PMKVY) which aims at creating shared infrastructure with education and skilling ecosystem, catering to local economic and skill development needs. Under this, higher education institutes are extending their premises as Skills Hub so as to maximize the capacity for delivering skill development courses. Under its pilot programme, close to 2000 Skill Hubs have been set up with more than 1.53 lakh candidates who have been trained till date.
100+ National Skills Qualifications Framework (NSQF) aligned future skill qualifications to be developed under 6 key areas:
o Automation in Industries (Manufacturing/Service) and Industry 4.0
o Infrastructure Connectivity (EVs and Drones)
o Electronics Manufacturing & VLSI
o Technology Infrastructure including 5G & Cyber Security
o Digital Emerging Technologies
o Indigenous R&D
These Qualifications range from foundation level courses to long term trainings.
NCVET has facilitated the development and approval of 216 NSQF aligned future skill qualifications across multiple areas spread across sectors to cater for the future skills.
Setting-up of virtual labs
In vocational courses,

to promote crucial critical thinking skills, to give space for creativity, 750 virtual labs in science and mathematics, and 75 skilling e-labs for simulated learning environment, will be set-up in 2022-23

200 labs already set up.

A vertical on Virtual Lab has been created on DIKSHA portal, in the subjects of Physics, Chemistry, Mathematics, Biology for classes 9 to 12.

Beneficiaries:

Students, Teachers and Teacher Educators at Middle and Secondary stage. About 10 lakh teachers and 10 crore students will be benefitted.

Expected Benefits:

Development of skills and competencies of school students and teachers which will have impact on quality of teaching-learning and assessment process
NDEAR Compliant Vidya Sameeksha Kendra
NDEAR compliant VSK is an institutional avenue that enables integrated and shared 'seeing' for amplifying data-based decision making to drive action by key stakeholders for the success of their programs.

VSK can be a "Force Multiplier" that multiplies the existing capabilities of people or systems, enabling transformative impact towards outcomes.

Beneficiaries:

Schools, Teachers, Students, Administrators across country.

Expected Benefits: The data related to PMeVIDYA, DIKSHA, NDEAR, POSHAN, NISHTHA, NAS, PGI, UDISE etc. shall be collected, collated, analysed and showcased to facilitate policy decisions.
To scale up the micro-improvements taking place in the school education in different parts of the country, a Digital Project is being enabled.

Such micro improvements will be available to leaders at all levels through the National Infrastructure for Education – DIKSHA. It is aligned to the 'Learn – Do- Practice' of NDEAR

Beneficiaries:

Teachers, Educators, Administrators across country.

Expected Benefits: It brings a huge opportunity to transform various 'learning' initiatives into 'learning to improve' initiatives across the country through sharing of best practices
National Initiative for School Heads and Teachers Holistic Advancement (NISHTHA): ECCE
Objective: To prepare an initial cadre of high quality ECCE Teachers in Anganwadis.

Beneficiaries: About 90,000 including CRC and BRC Coordinators, DIET Faculty (from DRU Brach for AE&NFE), POs, CDPOs and Supervisors from ICDS set up.

Expected Benefits: Sensitization of master trainers on developmentally appropriate pedagogy for holistic development of children which will contribute towards enhancing quality education at Foundational level.

The training for master trainers to transact the content will be for 6 weeks (2 modules per week and assessment). Each module will be transacted through live interaction through ZOOM and DTH TV channels by the NRG from NCERT.
National Innovation and Entrepreneurship Promotion Policy guides school education systems on various measures that may be adapted to promote a learning environment where creativity, ideation, innovation, problem-solving and entrepreneurship skills of students are nurtured, irrespective of their age.

Six pillars under which specific actions can be taken at each stage of learning, from pre-school to higher education, to promote IIE in the school education ecosystem:
Mindset Change, Awareness, and Training

Infrastructure and Mentoring to Nurture Innovations

Incentivizing and Encouraging Teachers

Pedagogical Innovations

Collaborative Partnership- School & Community

School Entrepreneurs Led Startups
Beneficiaries: Schools, teachers and students.

Expected Benefits:
Policy will foster the culture of Ideation, Innovation, and Entrepreneurship (IIE) in schools.

Provides for the implementation mechanism to create a culture of Innovation, Ideation, design thinking, creative thinking, entrepreneurship, and start-ups in schools.

Advocates for measuring and enabling the ranking system for schools on the level of innovation-oriented activities.

Provides the mechanism for mentoring and utilizing the existing infrastructure of the school to nurture innovation, ideation, and entrepreneurship in students.

Encouraging, incentivizing, and up-skilling teachers to enhance their mentoring capabilities on ideation, innovation, and entrepreneurship.

Provides a mechanism for creating more start-ups from school education and ensures reasonable equity sharing between the stakeholders.

Gives guidelines on IP, revenue, and equity sharing among the stakeholders including innovators, teachers, and schools.

Public Consultation Survey for NCF

Objective:

To conduct a Public Consultation survey in 23 languages to seek inputs and suggestions for the development of the NCF with a target respondents/ citizen of 1 Crore.
Project Scope

encompasses:
Design and Development of the Survey Application

Design and Development of the Visual dashboard

Minimalistic User management

Advocacy and Promotion through multi-modal approach
Reach:

Will launched across MyGov domain, NCF portal, SMS trigger, Majority Social Media platform viz. Facebook, Twitter, Telegram, WhatsApp, Instagram, Signal and Sandes

Target beneficiaries

: Citizen of India specifically Educational ecosystem viz. Policy makers, Educators, Teachers, Students, Parents, Community workers, etc.

Expected Benefits:

It will create a value proposition towards early childhood care foundation, smart & futuristic learning, innovation, entrepreneurship and employability engulfed in overall development of the National Curriculum Framework which primarily focus on 4 curriculums i.e. Early childhood care education, Secondary education, Teacher education and Adult education.

It can be accessed at

https://ncfsurvey.ncert.gov.in/#/?source=govsite
****
MJPS/AK
(Release ID: 1846388) Visitor Counter : 78