Ministry of Youth Affairs and Sports Khelo India Youth Games : Grapplers carry Haryana past Maharashtra Posted On: 06 JUN 2022 9:30PM by PIB
Ministry of Youth Affairs and Sports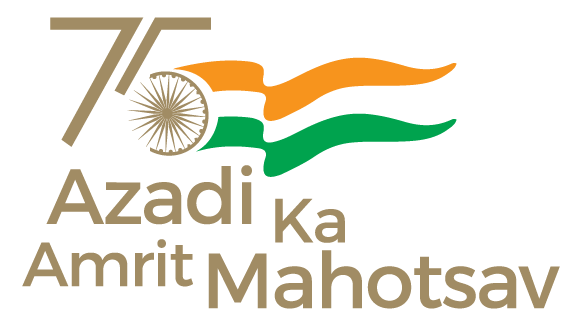 Khelo India Youth Games : Grapplers carry Haryana past Maharashtra

Posted On: 06 JUN 2022 9:30PM by PIB Delhi
Haryana embarked on a gold collection spree to spring past Maharashtra in the Khelo India Youth Games here on Monday.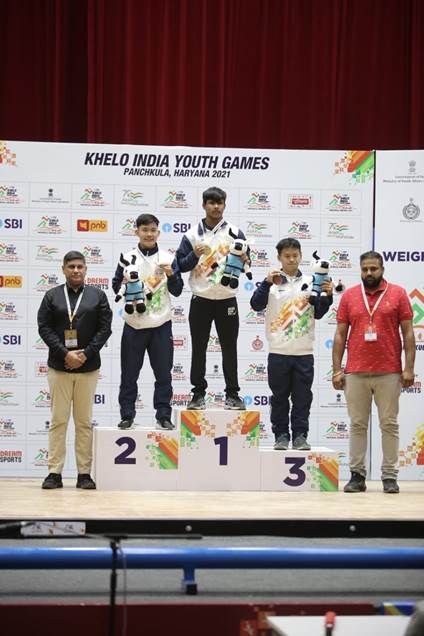 Underlining their ascendancy on the wrestling mat, their grapplers added four more gold to fatten their medal count to an impressive 16 gold, 8 silver, 16 bronze. This included a couple of crucial gold in weightlifting and one each in shooting, yoga, cycling and gatka.
Defending champions Maharashtra, who had taken the lead on Day 1, were left gasping in the second place with 13 gold, 6 silver and 7 bronze at the time of writing.
Manipur, who collected six gold in thang-ta over two days, were third after picking an additional gold in cycling.
Jammu and Kashmir created a stir by winning their first gold in the traditional martial art discipline, with Sumit getting the better of Madhya Pradesh's Ashish in the Phunaba Anishuba 60kg category.
Haryana wrestlers have expectedly been in devastating form on home turf. They had bagged all 5 gold on the opening day of the competition and seemed set for another clean sweep on Day 2, especially with two of the five final bouts being all-Haryana affairs.
But Chandigarh's Yashveer Malik had other plans. Displaying strong defensive skills, he defeated Nishant 6-2 in the Greco Roman 65kg final.
It all began with Suraj defeating Maharashtra's Vishwajit More by technical superiority. Ravinder too came up against a tough opponent in Maharashtra's Ajay Kapade in the freestyle 60kg final. But he kept his cool under pressure for a 11-8 victory.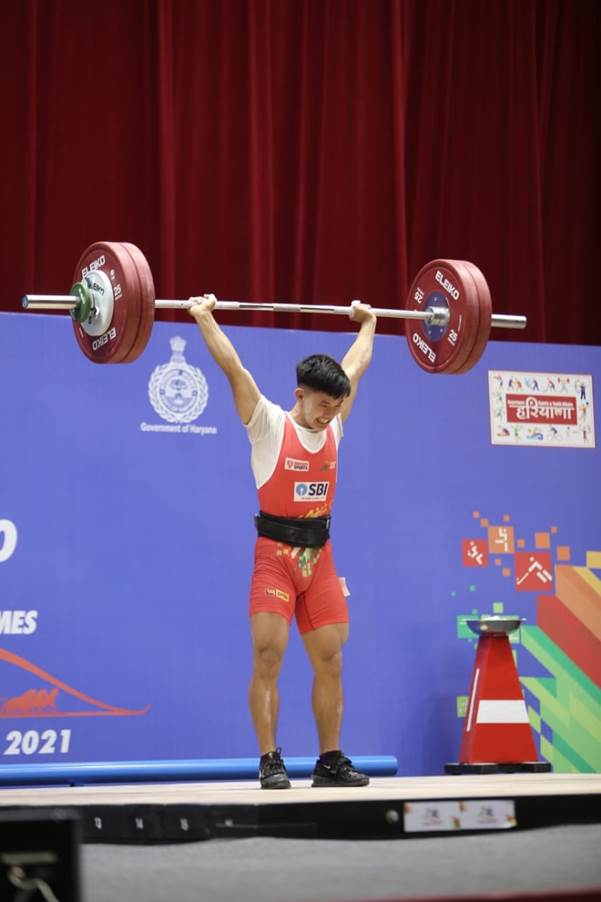 In the weightlifting arena, Bengai Tani opened Arunachal Pradesh's gold medal account with a total lift of 264 kg in the Boys 67 kg weight category. Tamil Nadu's T Madhavan (Boys 61 kg) and Haryana's Usha (Girls 55kg) were among the podium toppers in their respective weight categories.
Haryana also finished 1-2 in the 10m Air Pistol event at the Karni Singh Shooting Range in Delhi, with Shiva Narwal bagging the gold, Samrat Rana winning silver and Uttar Pradesh's Sahil clinching the bronze.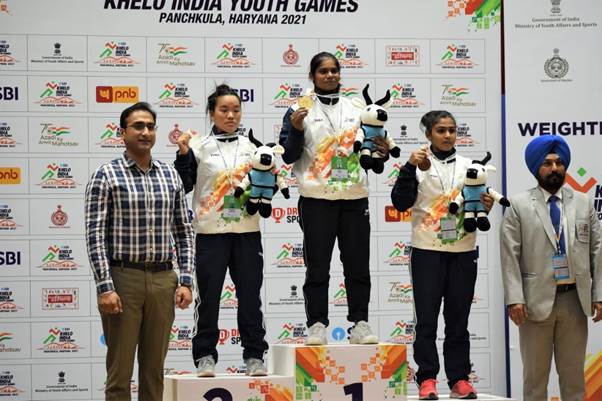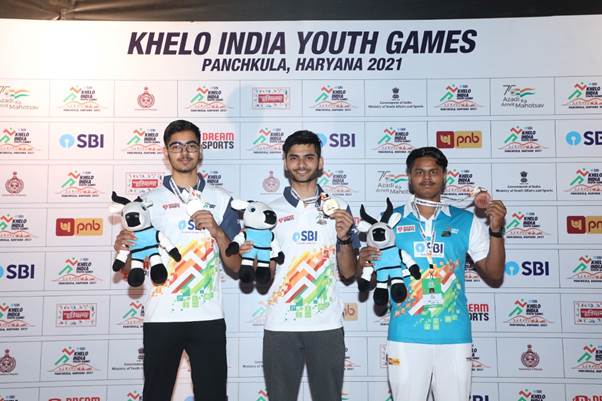 RESULTS (ALL FINALS)
Cycling
Boys
Individual Pursuit 3000 Mtrs: Gold: Niraj Kumar (Haryana), Silver: Mukesh Kaswan (Rajasthan), Bronze: Vivan Sapru (Maharashtra)
Sprint 200m: G: Khwairakpan (Manipur), S: Warishdeep Singh (Punjab), B: Luv Kumar Yadav (Rajasthan)
Girls
Individual Pursuit 2000 Mtrs: G: Pooja Danole (Maharashtra), S: Jasmeek Sekhon (Punjab), B: Himanshi Singh (Haryana)
Sprint 200m: G: Celestina (Andaman & Nicobar), S: Sadnya Kokate (Maharashtra), B: Tina Maya (Andaman & Nicobar)
Gatka
Boys
Single Soti Individual: G: Gursagar (Punjab), S: Varispreet (Haryana), B: Ikmeet (Jammu & Kashmir), B: Tejpartap (Chandigarh)
Single Soti Team: G: Haryana, S: Chandigarh, B: Andhra Pradesh, B: Delhi
Farri Soti Individual: G: Veeru (Punjab), S: Ranbir (Chhattisgarh), B: Manjosh (Delhi), Yuvraj (Gujarat)
Farri Soti Team: G: Punjab, S: Delhi, B: Jammu & Kashmir, B: Chhattisgarh
Shooting
Boys
10M Air Pistol: G: Shiva Narwal (Haryana), S: Samrat Rana (Haryana), B: Sahil (Uttar Pradesh)
Thang-Ta
Boys
Phunaba Anishuba – 60kg: G: Sumit Bhagat (Jammu & Kashmir), S: Ashish Yadav (Madhya Pradesh), B: M Santa Singha (Assam)
Phunaba Anishuba – 56kg: G: Mutum Singh (Manipur), S: E. Yaikhomba (Assam), B: Papai Sarkar (Delhi)
Girls
Phunaba Anishuba – 56kg: G: Radhika (Delhi), S: Kolom Devi (Manipur), Kenija Singha (Tripura)
Phunaba Anishuba – 52kg: Gold: Konjengbam Chanu (Manipur), Silver: Sairah Zahoor (Jammu & Kashmir), Bronze: Preeti (Haryana)
Weightlifting
Boys
61kg: Gold: T. Madhavan (Tamil Nadu), Silver: Shankar Lapung (Arunachal Pradesh), Bronze: Golom Tinku (Arunachal Pradesh)
67kg: G: Bengia Tani (Arunachal Pradesh), S: S. Logeswaran (Tamil nadu), B: Silvan Beihrothatlo (Mizoram)
Girls
55kg: G: Usha (Haryana), S: Boni Mangkhya (Arunachal Pradesh), B: Sakshi Ranmale (Maharashtra)
59kg: G: Bhawna (Haryana) 81 NR* (SNATCH), S: Sonam Singh (Uttar Pradesh), B: Balo Yalam (Arunachal Pradesh)
Wrestling
Boys
FS: 60kg: G: Ravinder (Haryana), S: Ajay (Maharashtra), B: Nikhil Yadav (Telangana), B: Amit kumar (Delhi)
FS 71kg: G: Narender (Haryana), S: Amit (Haryana), B: Sandip (Maharashtra), B: Sahil (Haryana)
GR 55kg: G: Suraj (Haryana), S: Vishvajit More (Maharashtra), B: Anjit Munda (Jharkhand), B: Deepak (Haryana)
GR 65kg: G: Yashvir Malik (Chandigarh); S: Nishant (Haryana); B: Y. Victor Singh (Manipur), B: Hariom Puri (Madhya Pradesh)
Girls
61kg: G: Savita (Haryana), S: Shikha (Haryana), B: Nitika (Delhi), B: Rekhajat (Madhya Pradesh)
Yogasana
Boys
Artistic Single: G: Jay Kalekar (Maharashtra), S: Prakash Sahu (Chhattisgarh), B: Rupesh Sange (Maharashtra)
Artistic Group: Gold: Haryana, Silver: Maharashtra, Bronze: West Bengal
Girls
Artistic Individual: G: Pranjal Vhanna (Maharashtra), S: Niral Wadekar (Goa), B: Farzeen Zakati (Goa)
Artistic Group: G: Maharashtra, S: Jharkhand, B: Tamil Nadu
*******
NB/OA
(Release ID: 1831683) Visitor Counter : 54