Ministry of Information & Broadcasting One couldn't let down one's father who was such a big legend: IFFI 52 Director Rajiv PrakashVed – The V
Ministry of Information & Broadcasting
One couldn't let down one's father who was such a big legend: IFFI 52 Director Rajiv Prakash

Ved – The Visionary is a film on my father who documented crucial events of India's pre and post-Independent era: Director of IFFI 52 Indian Panorama Non Feature Opening Film
Posted On: 21 NOV 2021 9:25PM by PIB Mumbai
Panaji, 21 November 2021
Would you believe it if we say you can meet Ved Prakash, who made news coverage of Mahatma Gandhi's funeral in January 1948, at IFFI? Unfortunately he is no more but we get to relive thanks to the documentary 'Ved – the Visionary'. Directed by his son Rajiv Prakash, the film offers an inspiring glimpse into the journey of conquering the world of newsreel filming during 1939 – 1975. The documentary is featured as the opening film of IFFI 52 Indian Panorama – Non feature Films Section. His son Rajiv Prakash who is also the director of the film and his granddaughter and screen play writer of the film, Lubhani Prakash addressed a Press Conference in Goa, today.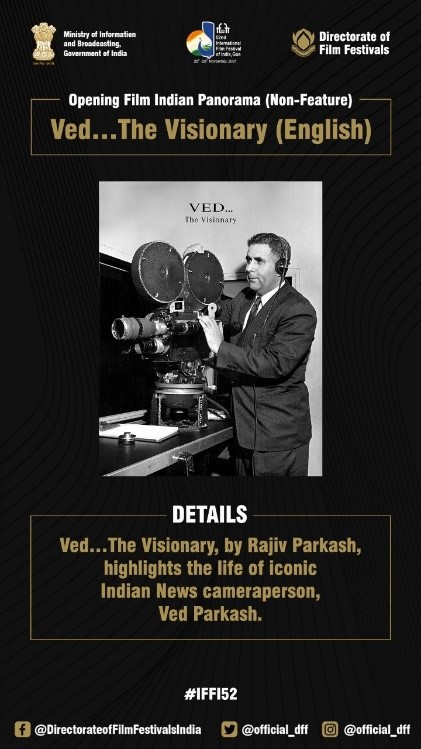 The Director explains how the idea of the film occurred to him, thanks to a chance discovery of someone's writings about meeting his father. "While I was surfing the internet one day, I typed my father's name just to check some details and suddenly found someone has written about my father in the first person 'I happened to meet Ved..' My father died in 1975 when I was still in school. I got into the same profession of his but never gave a thought about making this documentary. The writings concluded saying that 'I met Ved again in 1975, had lunch with him. But after a few days heard that he had passed away' – and this was an eye opener for me. I wanted to know who the 'I' was and that's how 'Ved-the Visionary' happened."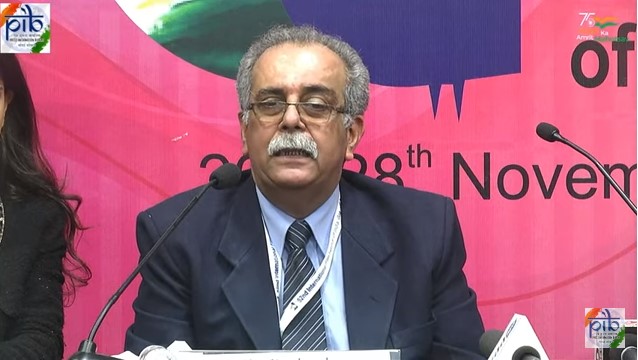 Shri Prakash informed IFFI delegates about the depth and breadth of the news reporting done by his father. "This is a film on my father. His career started in 1939 and went on till 1975. All crucial events of the country both pre-independence and post-Independence were covered by him when he was working and representing India for British Paramount News, England. His extraordinary works included the news coverage of Mahatma Gandhi's funeral in January 1948, which was nominated for the British Academy Awards in 1948, the change of power when India became independent; the tragedy that followed India's partition."
"If this film hadn't been made, the name 'Ved Prakash' would have been buried but with this film the name is now embedded in history," he added.
Prakash expressed his struggle in finding the authenticity of the footages and news coverage. "There were films shot by everyone then but how would you identify this one is shot by Ved Prakash?" He explained how he was able to locate films and news coverages shot by him on the site of British University. "I typed his name on their website and found 146 films shot by him," he added.
"I don't know if anyone here has seen or heard about a dope sheet – you shoot a news coverage – you give a description and the sequence of shots you have done. When I saw all the 146 footage and the dope sheets had given credits to 'Ved Prakash', I was confident that this is my father's. It was important for me to ensure the content is authentic. You know one couldn't let one's father down who was such a big legend."
Prakash also shared how the legends who were part of his father's fraternity came forward to help him in making the film. "Be it Mike Pandey, Raghu Rai, Naresh Bedi Saab, Mark Tully, they were all overwhelmed and offered to do whatever they could to make this film. They were all happy about this project because very few people take an initiative to make a film on their parents."
He spoke about the difficulties in finding his father's peer groups, his colleagues and friends since most of them are old and not easy to locate. "Once I happened to open my dad's telephone diary and found a name of the former vice president of NBC news. His wife's name – her birthday, their two sons and their birthdays – this must be someone my dad knew well. I asked my daughter to find this person somehow and we were successful in finding him too."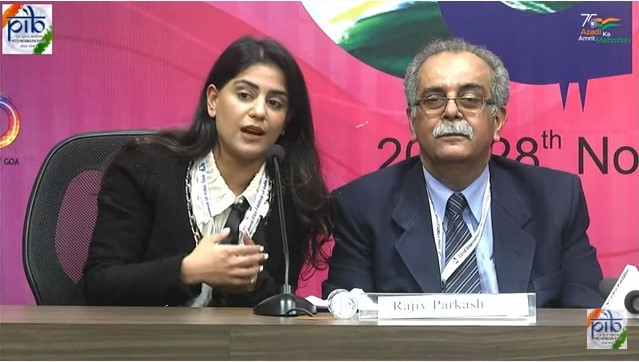 Ved Prakash's granddaughter and screenplay writer Lubhani Prakash spoke about her encounters in making the film on her grandfather whom she hadn't met. She informed that the journey of understanding Ved Prakash was through the eyes of her father. "I have not seen my grandfather. For me it was a journey to research and understand. From my father, I understood the great work he did for India in covering important pivotal events for our country."
"As a youth I feel extremely proud. When we look back in history it is synonymous with my grandfather's name," she added.
Prakash expressed that as an Indian, she is proud to have made a film on an Indian, who captured history of news reel and for providing it to the world. Speaking about the immense time and effort to make this project, she shared how hard it was to find a person when the only detail you have is his/her name. "We had the name 'Joseph' who used to be my grandfather's colleague and he started emailing and sending letters to all the universities across to trace the person."
Lubhani also proudly said that, "My grandfather is part of Indian history. Today we are able to show it across the world."
"IFFI is the first place where I have put the film on," Rajiv Prakash informed that IFFI is the first film festival where the documentary is being screened.
Rajiv Prakash who is a cinematographer by profession shared how tough it was for him to face the camera for the first time. "I understand and connect what happens when people come in front of the camera."
LIVE NOW📡

Press Conference by directors of Indian Panorama Opening Films – Semkhor and Ved…The Visionary#IFFI52

Watch on PIB's🔽

YouTube: https://t.co/5jZ3gvWu2k
Facebook: https://t.co/ykJcYlvi5b https://t.co/VxwD4RLdAw

— PIB India (@PIB_India) November 21, 2021
#IFFI52: Inauguration ceremony of Indian Panorama section is taking place

Please watch live on https://t.co/HtYMla8OdE

— PIB India (@PIB_India) November 21, 2021
* * *
TEAM IFFI PIB | DJM/DL/DR/IFFI-
(Release ID: 1773821) Visitor Counter : 41