Ministry of Panchayati Raj Mysuru Declaration on Service Delivery by Panchayats signedThe declaration is aimed at recognising Citizen Centric Serv
Ministry of Panchayati Raj
Mysuru Declaration on Service Delivery by Panchayats signed

The declaration is aimed at recognising Citizen Centric Services as the "Heart of Governance"
Posted On: 23 NOV 2021 6:34PM by PIB Delhi
Ministry of Panchayat Raj, Government of India in association with National Institute of Rural Development and Panchayat Raj, Hyderabad and Abdul Nazir Sab State Institute of Rural Development and Panchayat Raj, Mysuru had organised one day National Consultative Workshop on Citizen Charter and Delivery of Services by Panchayats on 22nd November 2021 as part of Azadi Ka Amrit Mahotsav. Participants from 16 States signed the Mysuru Declaration and resolved to roll out the Common Minimum Service delivery by Panchayats across the country from April 1, 2022.
The declaration is aimed at recognising Citizen Centric Services as the "Heart of Governance". Shri Sunil Kumar, Secretary, Ministry of Panchayati Raj, set the tone by providing key inputs on various aspects of service delivery that are either provided by the panchayats directly or services of other departments that are facilitated by panchayats through a monitoring mechanism. He suggested that common minimum services need to be arrived at by different States that could be provided by the Panchayats.
Shri Chandra Shekhar Kumar, Additional Secretary, Ministry of Panchayati Raj in his address highlighted the efforts of the Ministry to provide improved services to the community in rural areas. He suggested that the services that can be provided by the Panchayats have been listed by the Ministry and the States can start working on the guidelines issued by the Ministry. Smt. Uma Mahadevan, Principal Secretary, RDPR, Government of Karnataka in her inaugural address highlighted the services that are provided by the panchayats in Karnataka especially the health services that were extended by the Panchayats during the COVID-19 epidemic last year.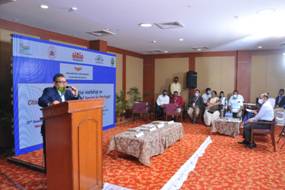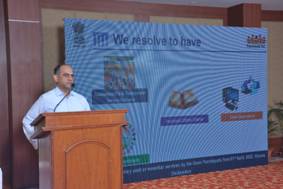 Shri Alok Prem Nagar, Joint Secretary, Ministry of Panchayat Raj, Government of India has been the force behind launching the present campaign on providing Citizen centric services across the states. He highlighted the steps taken by different states focussing on infrastructure related issues and also e-initiatives to improve service delivery. This workshop was attended by Senior Officials and Policymakers from different States and Resource Persons involved in improving services to citizens. The delegates from various States shared their experiences during the workshop. Director, ANSSIRD&PR, Smt. K. Lakshmi Priya and Dr. R. Chinnadurai, Associate Professor, NIRD&PR also participated in the deliberations.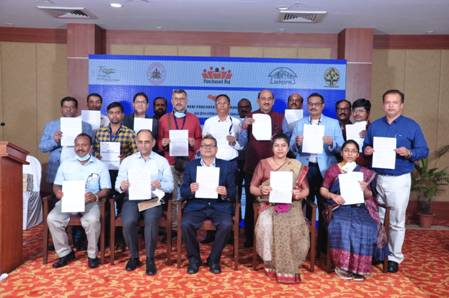 -o-
Copy of Declaration
WE, the Representatives and Officials recognise the efforts to promote inclusive and accountable Local Self Governments in delivery of services, in consonance with the priorities and the aspirations of our citizens.
We accept responsibility for seizing this moment to strengthen our commitments to promote transparency, empower citizens, and harness the power of new technologies towards timely and quality delivery of services; enhancing citizen service experiences
We uphold the value of openness in our engagement with citizens to improve services, incorporating diverse views when designing and delivering services. We embrace principles of transparency and open government with a view towards achieving greater prosperity, well-being, and human dignity for sustainable development of local communities.
Together, we declare our commitment to:
Increase the availability of Citizen Services at the grassroots levels in a timely and efficient manner, commencing with offering of the following basic, statutory and/ or essential services at the Gram Panchayat level from 1st April, 2022

Implement the highest standards of professional integrity and accountability towards timely delivery of Public Services
We pledge to lead by example and contribute to advancing Service Delivery at grassroots level. Our goal is towards timely delivery of Services for empowering citizens, promoting the inclusive and sustainable growth of rural India.
We commit to espouse these principles in <state Name>, and work to foster institution-building at the grassroots level that empowers and delivers Services for citizens; Improving quality of Life through efficient and effective service delivery mechanisms for Panchayat residents, specifically for the welfare of women, children, senior citizens, divyang and other vulnerable and marginalized sections of society
-o-
*****
APS/JK/IA
(Release ID: 1774310) Visitor Counter : 50