Ministry of Fisheries, Animal Husbandry & Dairying Department of Animal Husbandry and Dairying organizes 2000 village level camps across 8 UTs
Ministry of Fisheries, Animal Husbandry & Dairying
Department of Animal Husbandry and Dairying organizes 2000 village level camps across 8 UTs and Goa for awareness on Entrepreneurship schemes

NLM & RGM schemes have a component of breeder farm entrepreneurs and fodder entrepreneurs, informs Minister to farmers

Rural Poultry Entrepreneurship component to give direct employment to 1.5 lakh farmers; 2 lakh farmers to benefit from sheep goats & poultry development
Posted On: 27 OCT 2021 8:31PM by PIB Delhi
As part of Aazadi Ka Amrit Mahostav, Department of Animal Husbandry and Dairying organizes an awareness Programme on Entrepreneurship schemes of the Department through Common Service Centres network by holding 2000 village level camps across 8 Union Territories and Goa. Attendees were given complete information about these schemes, as well as how to apply on the scheme portal through the CSC itself.
Cabinet Minister for Ministry of Fisheries, Animal Husbandry and Dairying Shri. Parshottam Rupala addressed the farmers connected through camps and informed that as per recent Cabinet decision, the National Livestock Mission and Rashtriya Gokul Mission schemes now have a component of breeder farm entrepreneurs and fodder entrepreneurs. National Livestock Mission (NLM) will help in creating rural Entrepreneurship and help in creating better livelihood opportunity for unemployed youth and livestock farmers in the Cattle, Dairy, poultry, sheep, goat, piggery, feed and fodder sector paving the way towards AtmaNirbhar Bharat.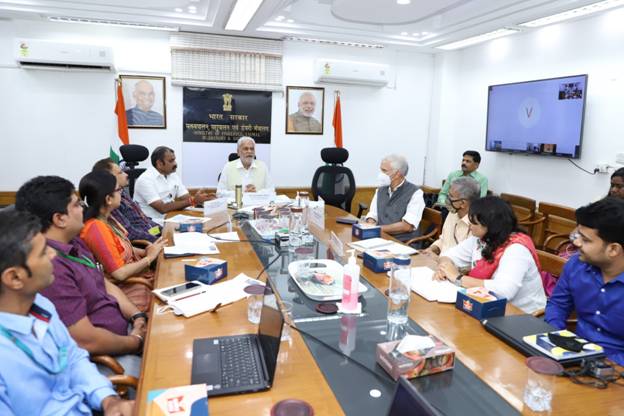 During the function Minister stated that, these schemes will bring sharp focus on entrepreneurship development and breed improvement in rural poultry, sheep, goat and piggery including feed and fodder development. Rural Poultry Entrepreneurship component will give direct employment to 1.5 lakh farmers and 2 lakh farmers will be directly benefitted from sheep goats and poultry development. Fodder and fodder seed availability in country will be increased by many folds through creation of fodder entrepreneurs.
Later in the programme Minister interacted with Rural entrepreneurs from UTs today . He appreaciated the efforts made by Thingley Norbu Ladakh who has popularised Yak cheese even beyond boundaries ( Nepal), he talked to Idres Mustafa Qureshi from Srinagar J & K , who thanked the government for all Possible support in sheep husbandry . He showed a glimpse of his sheep rearing farm through a short video.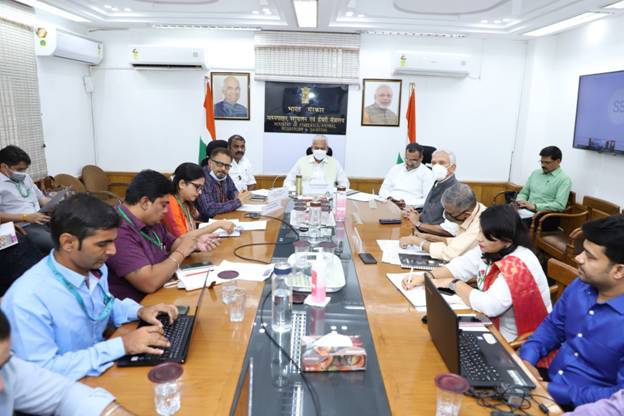 minister spoke with Ms Sukhada Sil from South Andaman who requested for government assistance to small farmers who want to start business with less than 500 animals minister assured all possible help to the entrepreneurs.
The CSC VLE OF Andaman and Nicobar Island Shri Vadivel introduced a small business farmer of Andaman island . He also requested minister to help small farmers who can buy less than 500 animals.
In the first of its kind interaction, a Union minister directly interacted with the beneficiaries and assured all assistance, through virtual mode.
The VLE of Lakshadweep Islands introduces minister to the farmers from Agatti Island . The entrepreneurs from Lakshadweep islands requested minister for providing veterinary doctors in hospitals.
As a part of Azadi ka Amrit Mahotsav, the rural empowerment and a glimpse of inclusive growth and inclusive governance could be witnessed in the Awareness and interactive camp held today .
The program was graced by Dr Sanjeev Balyan and Shri.L.Murugan, Ministers of State, Ministry of Fisheries, Animal Husbandry and Dairying and other dignitaries.
————————————-
MV/MG
(Release ID: 1767038) Visitor Counter : 13