Ministry of Culture Shri G Kishan Reddy takes charge as Union Culture MinisterSmt. Meenakshi Lekhi and Shri Arjun Ram Meghwal also take charge as
Ministry of Culture
Shri G Kishan Reddy takes charge as Union Culture Minister

Smt. Meenakshi Lekhi and Shri Arjun Ram Meghwal also take charge as Ministers of State in Culture Ministry
Posted On: 08 JUL 2021 5:35PM by PIB Delhi
Union Minister Shri G Kishan Reddy took charge as Union Culture Minister at Shastri Bhavan in New Delhi today. Simultaneously, Smt. Meenakshi Lekhi and Shri Arjun Ram Meghwal also took the charge as Ministers of State in M/o Culture.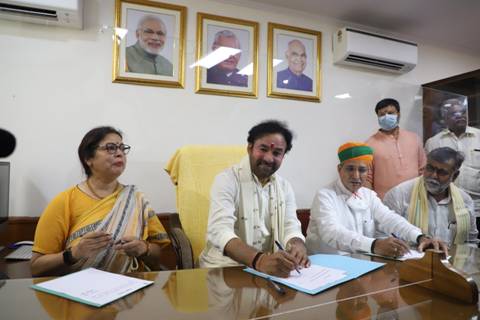 Sh Kishan Reddy has also been assigned the charge of Union Minister of Tourism as well as Development of North-Eastern Region. He was earlier holding the charge of Minister of State in the Ministry of Home Affairs.
Shri @kishanreddybjp new Union Minister for Culture, Tourism & DoNER took charge of office today at @MinOfCultureGoI in New Delhi. Smt. @M_Lekhi and Shri @arjunrammeghwal also took charge as Ministers of State in M/o Culture. MoS, Sh @prahladspatel was also present.#Govt4Growth pic.twitter.com/9FJfEcYMto

— PIB Culture (@PIBCulture) July 8, 2021
Speaking to media, Sh Reddy said that we will work towards achieving the vision of the Prime Minister with full commitment.
Shri G Kishan Reddy was elected as a Member of Parliament to 17th Lok Sabha in 2019, from Secunderabad Constituency, Telangana.
Sh Reddy has led several unique initiatives like his work for the child-heart patients which became a movement and won him the Best Child-Friendly Legislator Award in the AP Legislative Assembly by UNICEF (United Nations).He also started a campaign against terrorism and organised International Youth Conference against Terrorism (IYCT) in New Delhi in which over 193 delegates participated from over 54 countries. He also conducted "Seema Suraksha Jagaran Yatraand 'Telangana Poru Yatra'.
Sh Reddy has also received the Outstanding Youth Leadership Award for the year2009 by Maryland India Business Round Table (MIBRT), USAand Conferred a medal by Union of Bulgarian Commandos for his contribution towards Global Peace at Sophia, Bulgaria.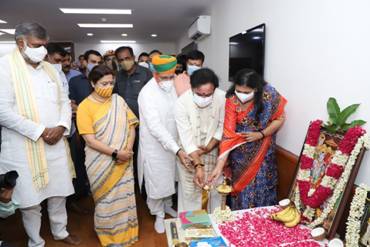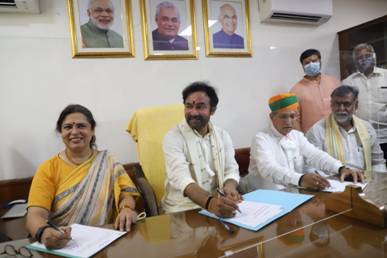 *******
NB/NC/UD
(Release ID: 1733766) Visitor Counter : 89